About Synflex & The Liquid Glucosamine Chondroitin Benefits
Find Out How Synflex
®

Can Benefit You

Synflex® is a powerful liquid glucosamine chondroitin supplement which is ideal for those who suffer from arthritis discomfort. It has long been acknowledged that natural nutritional supplements like glucosamine have benefits that can help relieve joint pain.

Synflex® is formulated using pharmaceutical quality glucosamine sulfate and glucosamine HCL, along with ten other ingredients including all-natural vitamins and minerals to promote mobility, healthy joints, and cartilage rehabilitation.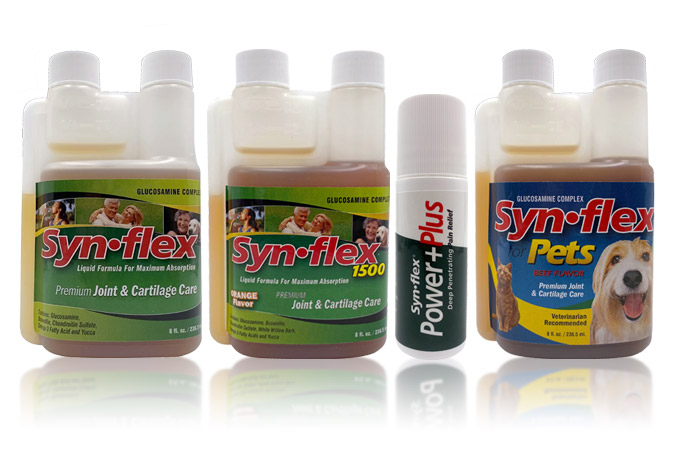 Synflex
®

Liquid Glucosamine Chondroitin Benefits & Ingredients

When it comes to joint supplements, most products in the industry come in either pill or capsule form. However, the body doesn't absorb these powder varieties of glucosamine very well. For this reason, Synflex® America uses the liquid forms of glucosamine HCL, glucosamine sulfate and chondroitin. The liquid supplement provides optimal bioavailability and an absorption rate of 80% to 85%.

With increased absorption, many people who use Synflex® liquid glucosamine chondroitin experience results after using it for only a few days. Typically, it takes just two to four weeks for the ingredients to produce superior results. That's much faster than pill and capsule supplements that take six to ten weeks to begin producing results. Still, there are many other liquid glucosamine benefits that the Synflex® formula offers.

Unlike other glucosamine supplements that only contain three or four ingredients, Synflex® liquid glucosamine contains 11 ingredients. Along with pharmaceutical-quality glucosamine chondroitin, our formula includes eight essential vitamins and minerals. These include manganese, omega-3 and omega-6, bromelain, boswellin, and vitamins A, C and E. Additionally, our Synflex® 1500 formula contains white willow bark. Best of all, all of the ingredients that we use are completely natural and gluten free. Since our formula doesn't contain fillers, it's 98% pure and offers maximum glucosamine benefits.
Glucosamine Chondroitin Product Reviews
At Synflex® America, we credit our success to our wonderful customers and the positive reviews that they've shared about our liquid glucosamine chondroitin formula. We designed this formula to provide a variety of benefits, such as relief from arthritis symptoms for both humans and animals, and we're confident that our liquid glucosamine chondroitin formula is the best available. We're proud to provide a natural supplement that helps with arthritis-related issues.
Since 2000, our company has grown to become the largest supplier of liquid glucosamine chondroitin across the globe. We've sold more than 1 million bottles directly to consumers, so many individuals, including athletes, and pets have had the opportunity to experience the liquid glucosamine benefits that our product provides. We make customer service a priority because we recognize the role that it has in our business. We're here to assist our customers in every way possible, and our dedication to maintaining relationships with them is evident in how we handle their business in a friendly and respectful manner.
Who Can Benefit from Liquid Glucosamine Chondroitin?
Of all the liquid glucosamine benefits that people may experience while using Synflex®, relief from sore joints is the main one. It's the reason why most of our customers order our formula. Who exactly can benefit from consuming liquid glucosamine chondroitin? Let's take a look at who is most likely to notice a difference in their joints.
Arthritis Patients
Osteoarthritis is one of the most common forms of arthritis, so it's usually just called "arthritis." This chronic disease destroys joint cartilage over time. Without cartilage, the bones in joints rub together, causing soreness and inflammation. People with arthritis find that one of the biggest liquid glucosamine chondroitin benefits is that it reduces these symptoms.
Athletes
Athletes do a lot of repetitive motions when they exercise and participate in activities. Because of that, their daily habits are harder on their joints than the daily habits that most people have. For that reason, athletes are more likely to suffer cartilage damage and accelerated wear and tear. Of the liquid glucosamine chondroitin benefits, improved nutrient absorption and joint care are what athletes enjoy most.
Anyone with Sore Joints
Even people who don't have arthritis or who aren't athletes can experience liquid glucosamine chondroitin benefits. Anyone can use Synflex® to maintain joint health and ensure that they don't lose mobility as they age. Anyone who already experiences sore joints and hampered mobility can also use this formula to get relief from the soreness and improve their ability to move around.
Pets
At Synflex®, we believe in helping pets, including dogs and cats, get relief from arthritis and other joint pain. Whether these problems develop as they age or because of a traumatic incident, furry family members can suffer from cartilage loss and sore joints just like humans. The liquid glucosamine chondroitin benefits that pets can experience from our dedicated formula include improved joint health, better mobility and reduced symptoms.
Glucosamine Chondroitin Benefits for Joint Health
To understand why Synflex® provides glucosamine benefits, learning about the ingredients can help. Our bodies naturally make glucosamine, which is an amino sugar, to maintain the health of our joints. As we age, the amount of glucosamine that our bodies produce declines, so our joint health declines as well. On top of that, trauma to our joints can cause structural damage, especially to the cartilage. Like glucosamine, chondroitin is a substance that our bodies naturally make to support healthy joints and build cartilage. Unfortunately, our bodies produce less chondroitin as we get older as well.
Since Synflex® contains both glucosamine and chondroitin, taking it increases the levels of these substances in our bodies. Also, chondroitin pulls nutrients to our joints, and our cartilage absorbs it to become stronger. Chondroitin has anti-inflammatory properties and enhances the effectiveness of glucosamine too. According to clinical studies, the combination of glucosamine and chondroitin produces glycosaminoglycans, which help the body heal cartilage that's damaged. These studies also indicate that this combination of ingredients can reduce sore joints and has the potential to eliminate the soreness altogether. For these reasons, Synflex® liquid glucosamine benefits include relief for arthritis symptoms. Containing pharmaceutical-quality ingredients, our formula is one of the best supplements on the market for delivering sore joint relief from pain to humans and pets alike.