The Best Glucosamine Supplements Available
Glucosamine Product Reviews & Suggestions
As a consumer, you want the most powerful joint care product you can buy. At the same time, you also want a product that offers the greatest value for your dollar. In this article, we have featured various liquid Glucosamine formulas due to their superior absorption and bioavailability. However, we added a few pill and capsule formulas for comparison purposes. We encourage you to read the information below regarding the best Glucosamine supplements available today so you can make the best decision possible.
What Smart Glucosamine Buyers Want
Quality & Quantity of Active Ingredients
Daily & Monthly Cost
The Concentrated Power of Liquid Glucosamine
Many customers wonder if a 16 or 32-ounce liquid Glucosamine product is a better choice than Synflex's 8 ounce bottle for their needs. Based on our analysis, it is clear they are "not" the best value. In the chart below we provide more information about how Synflex liquid Glucosamine products are concentrated and do not contain any fillers. Please note: "Active ingredients" means ingredients that are beneficial to joint care.
Product
Synflex 1500
Size
8 Ounces
Daily Dose
1/4 Ounce
Cost
$24.95 – $28.85
Duration
32 Days
Daily Cost
$0.78 – $0.90
Note: Syn-flex® 1500 contains pharmaceutical-quality liquid Glucosamine/Chondroitin and other joint-healthy ingredients. Product price varies depending on quantity purchased.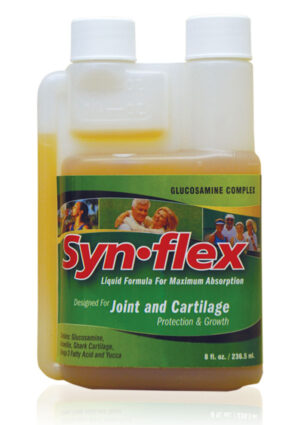 Product
Synflex Original
Size
8 Ounces
Daily Dose
1/4 Ounce
Cost
$24.95 – $28.85
Duration
32 Days
Daily Cost
$0.78 – $0.90
Note: Synflex Original Formula also contains pharmaceutical-quality liquid Glucosamine/Chondroitin. The formula contains 1,250 mg. of Glucosamine.
Other Popular Glucosamine Products
These larger bottles of liquid glucosamine appear as if they provide you with a larger quantity. However, when you look closely at these products you notice two things. First, they have fewer joint-healthy ingredients, and they are more expensive given the daily dosing required.
Product
Puritan's Pride
Size
16 Ounces
Daily Dose
1 Ounce
Cost
$22.99
Duration
16 Days
Daily Cost
$1.43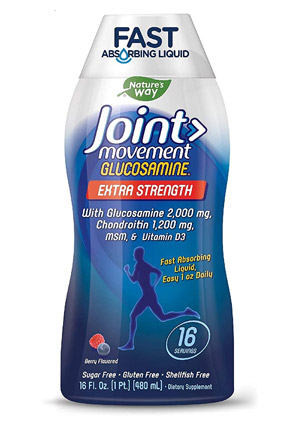 Product
Nature's Way
Size
16 Ounces
Daily Dose
1 Ounce
Cost
$15.99
Duration
16 Days
Daily Cost
$1.00
Product
Tropical Oasis
Size
32 Ounces
Daily Dose
1 Ounce
Cost
$32.95
Duration
32 Days
Daily Cost
$1.03
Glucosamine Capsules & Tablets
There is simply no comparing the performance of liquid glucosamine to pills. Even if a pill were to have a higher concentration of an ingredient, the body only absorbs approximately 10% to 20% of its nutrients. Meanwhile, liquids have an estimated 85% to 90% absorption rate.
"In fact, the Physician's Desk Reference (page 1542) states that 85-90% of nutrients in liquid supplements are absorbed in 22 to 30 seconds. Compare this to hours it takes for the nutrients in pills to be absorbed by the body. Moreover, it has been demonstrated that only 10%-20% of the nutrients in pills actually are absorbed."
Source: Medicare Europe
Synflex Products Offer More for Less
One last thing to consider: Some glucosamine products require you to take 3 capsules or tablets per day. As a result, the bottles that contain 60 to 120 tablets don't last nearly as long as you may think they would. This is even before taking the inferior absorption rate into consideration.
Compare Liquid Glucosamine Supplements
Puritan's Pride Product Evaluation
The largest red flag with this product is that they are using shark cartilage. Not only is this a controversial ingredient, but products containing it are outright banned from Amazon — which is why you can only find pills sold from this brand on Amazon and not their liquid glucosamine line. For reference, Synflex is formulated with bovine trachea in place of shark cartilage.
As mentioned before, the serving size is a massive concern. The directions are to take 1 fluid ounce per day, so a bottle of Puritan's Pride Glucosamine only will last 16 days which is only half the amount of time a bottle of Synflex lasts. Considering the Synflex dosage is 1/4 fluid ounces, theirs is 4 times as much which indicates they may be using a heavy amount of binders or fillers to dilute their formula.
Also, there are 20 calories and 4g carbohydrates per serving in their product. 4 carbs add up quickly if you are on the keto diet. Synflex liquid Glucosamine only contains 1.5g carbs. Another question you can ask yourself is where the extra calories and carbs are coming from if its primary ingredient is Glucosamine. That's something you should be concerned about.
Nature's Way Product Evaluation
Like the previous product, they offer a 16 fluid ounces bottle and the serving size is 1 ounce per day. Nature's Way glucosamine supplements also contains a whopping 7g carbohydrates per serving (not keto friendly). It has a list price of $15.99 on Amazon so similar to Puritan's Pride it will end up costing you more to use this product compared to Synflex.
Tropical Oasis Product Evaluation
Price is the biggest factor with Tropical Oasis' liquid Glucosamine supplement. It is currently being sold for $32.95 for a 32 oz bottle, but the dosage is 1 fluid ounce per day. This works out to more than $1 per day. Compared to Synflex where you can get a 32-day supply at $0.78 to $0.90 per day. Those 32 ounces do not get you far and it begs the question of what they may be doing with the formula that's making it so inefficient.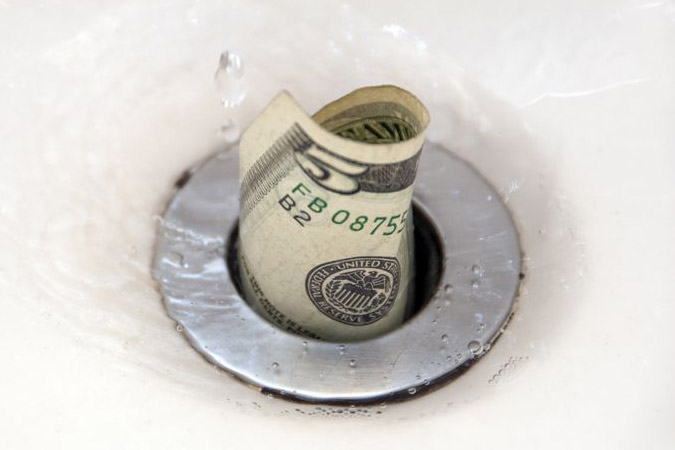 Ingredients in Liquid Glucosamine Supplements
Synflex's powerful blend of synergistic ingredients is what sets it apart from just about any other glucosamine supplement on the market (both liquid and pills). For reference, here are the ingredients used in our flagship Synflex 1500 Formula:
Tropical Oasis Ingredients
As you can see, the Synflex blend of ingredients is much more comprehensive and conducive to joint health. Both of the other products are lacking essential vitamins and minerals which Synflex uses in combination with Glucosamine and Chondroitin to deliver the most effective joint health supplement on the market.
As far as glucosamine pills and tablets are concerned, there really is no comparison. It doesn't matter what ingredients they're using nor the concentration. Your body simply will not absorb anywhere near the amount on the label.
One major reason why Synflex is so effective with its low dosage of ¼ fluid ounces is thanks to the pharmaceutical quality Glucosamine being used and its rigorous manufacturing process. If competitors are selling higher volumes of liquid glucosamine ranging from 16 to 32 fluid ounces and recommending a dosage of 1 fluid ounce, their products are either:
Not using high-quality ingredients like Synflex
Diluting their products with other ingredients to give you the perception of getting more for your money
Ingredients to Avoid
At Synflex we do not use fillers like most on the market today. We do not use average quality nutrients either; we use 98% pure liquid glucosamine. Synflex contains key ingredients that are not found in other products on the market today. Here are some commonly found ingredients in other glucosamine products you will want to avoid.
Shark Cartilage
Banned in some states and any products containing it are banned from Amazon. It is a controversial ingredient that threatens the extinction of certain species of sharks.
Stevia
A mostly safe, natural sweetener. There isn't necessarily an issue with the ingredient itself, but it has no place in a glucosamine supplement or dietary supplements in general. It's extremely worrisome that it's incorporated in dog supplements from other glucosamine brands. There is no rational reason to sweeten a product made for dogs.
MSM
This is an extremely popular ingredient found in most competing Glucosamine supplements (both pills and liquids). It is sulfur based and primarily used for its pain relief qualities. Since it is sulfur based, the taste is quite terrible and can lead to a very unpleasant experience that ruins the flavor of a given liquid Glucosamine supplement. When water is added to a formula containing MSM, it does appear that "concentrates" may lose the claimed quantity of ingredients.
Synflex does not use MSM. It is unnecessary when using a highly concentrated, pharmaceutical quality glucosamine and chondroitin formula. We see competitors using MSM as a crutch. They may be compensating for their lack of other synergistic ingredients or lower quality glucosamine.
Synflex Offers Better Ingredients
As far as pain relief is concerned, Synflex 1500 contains white willow bark which also aids in anti-inflammation. Bromelain and Boswellin are two other ingredients with anti-inflammatory properties that may also help with pain relief like MSM. Both Synflex 1500 and Synflex Original contain these ingredients while only Synflex 1500 contains white willow bark.
"Willow Bark, which contains an ingredient called Salicin, may assist in reducing a class of prostaglandins, a group of compounds that can cause inflammation."
"Besides the highly potent 1500mg of Glucosamine HCL and sulfate per serving, Synflex 1500 is boosted by the addition of white willow bark, vitamins (A, C & E), Omega 3 and 6 fatty acids, and a variety of ingredients that support joint health and help in reducing the joint pain and inflammation. These extra ingredients include boswellin, yucca, manganese, and bromelain. This versatile antioxidant-rich and anti-inflammatory liquid glucosamine formula may also help in reducing cell damage and premature aging."
Order the Best Glucosamine Supplements Today
There is no question that Synflex offers the best of all Glucosamine supplements. We are so confident that you are going to love our product that we are offering a 90-day guarantee. If you are not happy for any reason, simply return the bottle and we will give you a refund.