Athletes Using Liquid Glucosamine from Synflex
Best Joint Supplements for Athletes
Whether you play tennis, run marathons, or enjoy contact sports, your joints take a lot of abuse. The repetitive motions and increased stress that you put on your joints wear down the cartilage, which is the spongy substance that cushions the ends of your bones so that they don't grind together. Compared to the average person, cartilage can wear out faster because of an active lifestyle. Fortunately, Synflex contains the ingredients glucosamine and chondroitin, which work collectively to help combat the wear and tear in your joints. Best of all our liquid pharmaceutical-quality formula offers high bioavailability so that your body absorbs 80% to 85% of the ingredients. Glucosamine chondroitin pills and powders only offer 15% to 20% absorption. As a result, Synflex has the best joint supplements for athletes who want to protect their joints and need relief from soreness.
Sponsored Athletes Who Found Arthritis Relief with Synflex
Tim Burke
U.S. Olympic Team
Two-time Winter Olympian, Tim Burke, started competing at a young age. After competing in Nordic skiing, he began biathlon training at the age of 13. Tim never lost sight of his dreams and goals. He has competed in the World Cup for the past seven years and has had many podium finishes and a multitude of top-ten's. Tim competed in both the 2006 and 2010 Winter Olympic Games. His most memorable performance was during the 2009/2010 season when he attained the number one ranking for a portion of the year, with three podium finishes.
Tim's dream is to become the 1st American to win an Olympic medal in the sport of biathlon, and to break barriers down along the way. Find out how the best joint supplements for athletes was able to help him reach his goals.
*Biathlon is a winter Olympic sport which combines cross country skiing with precision target and shooting.
Second Lieutenant Gavigan
Leader of Marines & All Marine Triathlete
U.S. Marine Corps Triathlete Second Lieutenant William Gavigan The Ironman (2.4 mile swim 112 mile bike and 26.2 mile run) I'm doing is OCT 19th. Here is what he had to say about the best joint supplements for athletes:
I've started my distance training. Saturdays consist of 100 mile bike rides and a run while Sundays are 15+ mile runs and a 1 hour bike. Working out 20+ hours a week would cause, in the past, my knees to be very swollen after only 10 miles of running.
I'd spend the afternoon icing and the next 2 days with "water on the knee", taking anti inflammatory drugs just to bring it down. Since taking Syn-flex® I have not had ONE pain or swollen joint. It's amazing. The performance of my training and racing have gone way up because I can put in the hard workouts that pay off on race day. The only down side is that there are no more excuses on why I can't perform.
How I use Syn-flex® – On long training days I use the initial load amount, 1/2 oz. (6 hour workouts) I also use this amount after races due to the pounding on my body. On normal days or days off I take the suggested amount. On long rides I also put a serving into my fuel bottle (carbs and protein) for preventive maintenance.
Major Ted Leblow
US Army, AH-64 Pilot
Here's what Major Ted Leblow has to say about Synflex® (The best joint supplements for athletes)
I have been using Syn-flex® for approximately 1 year and am very pleased with the results. I am a runner and have been training for the marathon (26.2 miles) by gradually increasing my mileage over the past year. I have been able to go from about 70 miles a week to 115 miles a week virtually injury free thanks to Syn-flex®.
I discovered Syn-flex® after getting injured following my first marathon. I tried everything to recover with no success. After starting to use Syn-flex® I noticed immediate results and was able to resume my training. I took a double dose for the first two weeks and since then have been taking the normal dose on a daily basis. I also started taking a double dose on my long run and race days. Syn-flex® was what I needed to recover from an injury and has helped me stay injury free without joint or knee pain while almost doubling my weekly mileage.
I've used all kinds of joint complexes in the past but I know this is the best. I was skeptical when I saw the web page because it was marketed for older people, but being an avid label reader, I knew it was the amount I needed. After trying it I was positive Syn-flex® is the best.
Captain Megan Mason
All Marine Female Triathlete
Here's what Captain Megan Mason had to say about Synflex® (A great joint supplement for triathletes)
Three years ago, I took up the Ironman Distance Triathalon. I had begun to accept the pain in my knees and back as part of life until I tried Synflex®. The aches and pains are gone and my joints don't crack the way they used to! Synflex® made my joints feel as young as I do!
What is Glucosamine?
Your body naturally produces different types of glucosamine, which are amino sugars. These compounds are highly concentrated in your cartilage and joints and used to maintain healthy joint function. Synflex contains glucosamine HCL and glucosamine sulfate, which slows down the breakdown of collagen, increases range of motion, and reduces the symptoms of joint problems.
What is Chondroitin?
Chondroitin is another substance that your body naturally produces to maintain joint health. It promotes fluidity and water retention in your joints, slows down cartilage deterioration, improves joint flexibility and is a building block of collagen. On top of that, it boosts the effects of glucosamine. For these reasons, Synflex products are the best joint supplements for athletes.
Synflex Joint Supplements Benefit More than Just Athletes
While Synflex offers the best joint supplements for athletes, our liquid glucosamine chondroitin can benefit anyone who has joint difficulties. In fact, we designed our pharmaceutical-quality formula to provide symptom relief for humans and animals with arthritis. This disease involves the degeneration of the cartilage in your joints. The glucosamine and chondroitin ingredients in Synflex are natural substances that your body already makes. By combining them, our supplement can provide your body with the nutrients that it needs to help with arthritis-related discomfort, inflammation and mobility. Additionally, our formula includes extra minerals and vitamins that your body needs to support healthy joint function.
At Synflex, we're confident that we offer the best joint supplements for athletes and anyone else who needs joint relief. Our customers agree because we've sold more than 1 million bottles since our company was established in 2000. We've even become the largest supplier of liquid glucosamine chondroitin in the world. Because of that, thousands of people and pets have experienced the benefits of taking our joint health supplements. However, we offer more than just the best joint supplements. We believe in providing excellent customer service to assist you as much as possible. Our team maintains friendly, respectful relationships with anyone who needs help achieving relief and healthy joints.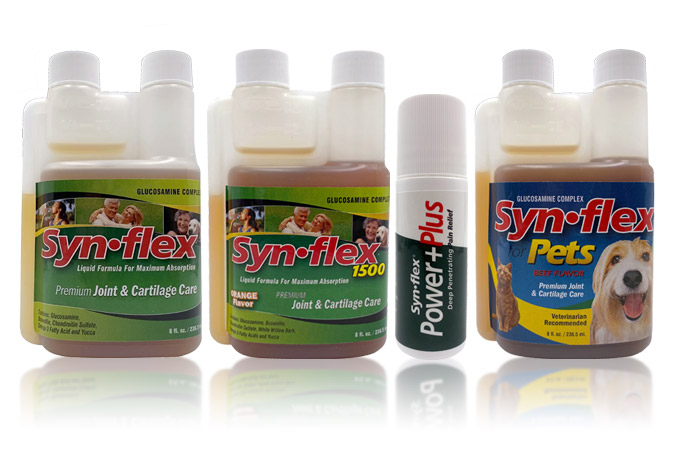 Order the Best Joint Supplements for Athletes
If you're ready to buy the best joint supplements for athletes, look no further than the Synflex website. Although your chiropractic office, local health food store or veterinarian office might sell our formula, the best way to get it is to order directly from us. In addition, you can get bulk discounts when you visit our web store. You can see how much the discount is when you purchase multiple of a specific item. When you sign up for our email list, you'll receive more discounts that are exclusive to our email subscribers.
We're Always Looking for Partners
Do you love Synflex and want to help sell the best joint supplements for athletes? You can join our high-margin wholesaler program: The Synflex Opportunity. You don't have to purchase a large amount to get started. Synflex will be available in cases of 12 bottles, and you'll get a percentage of the profits based on your sales volume. Most people who buy our formula become repeat customers, so each person who purchases from you could be a lifetime customer. Also, we offer wonderful marketing materials, selling opportunities, and support via chat, email and phone. Learn more about how to get started on our wholesalers page.